Get to Know the Management Console
---
Get to know the features and tools that you can access from each menu option in the Management Console.
Console menu
Click a menu option to display the page or the submenu indicated by the down arrow.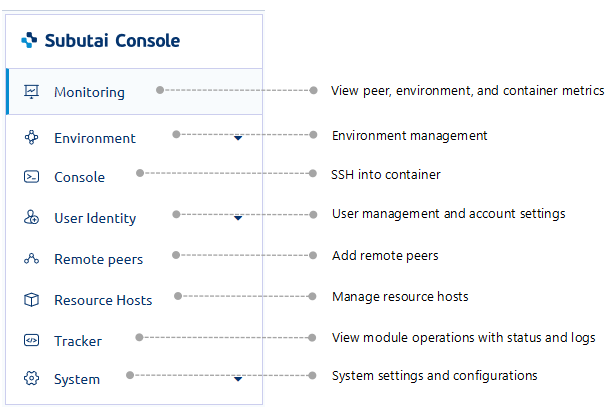 Console tools
At the top right corner of the main page are the following account tools and details:

Bazaar status and tools
Additional tools are provided specifically for peers registered with Bazaar.

Beside the Bazaar logo, you can see the current status of a registered peer: Online or Offline. Click the Bazaar status or logo to display the submenu.


Go to Bazaar - Redirects you to the Bazaar site.
Send Heartbeat - Manually sends a heartbeat from your peer to Bazaar to verify that your peer is up and running. A confirmation message is displayed to notify you of the successful transmission.
Register/Unregister - Opens the Peer Registration form or unregisters the peer from Bazaar.

Notifications and logs
The Notification bell with a number indicates the presence of notifications or logs. These notify you of available updates, task status, and change in Console settings or components.

💡 If you want to view log details, go to System > Updates.

Click the bell to display the list of notifications.

A few notes about managing notifications:

For notifications that provide options or controls, like the image above, you may choose your preferred action as necessary.
Click Clear to remove all notifications displayed in the list.